Cake Decorating & Modelling Workshops
Tickets are now available for our Cake Decorating & Modelling Workshops. Click here for timings and tickets Kids Cupcake DecoratingKidz Create a Cupcake Zone - £8.50 (£9.00 on the door)45 minutes Let your child explore their creativity by coming along and making cupcake toppers and use piping skills and techniques, with our help and guidance, to decorate and take home their own cupcake creation.All ages welcome. You can stay and watch, or grab some time to go shopping, alternatively you can book yourself into a course the other side of the partition, so you're not too far away from your child. Adult Cake Decorating DemoAdult cake Decorating Demonstration - £6.50 (£7.50 on the door) – 45 Minutes Come and learn the techniques and skills required to make professional looking cakes. We will demonstrate using moulds, cutters and icing how to get a great finish to your cupcakes and celebration cakes. Modelling WorkshopSugar Model Making £10.00 (£11.00 on the door) 45 Minutes Come and learn how to make a sugar model character. We will show you the best paste to use, how to use it and the best way to store it. Using simple techniques, we will guide you through the basic way of making your own cure model to take home. A 10% voucher will be included with the course to use on our Stand (MAD CAKES) (cannot be used in conjunction with any other offer)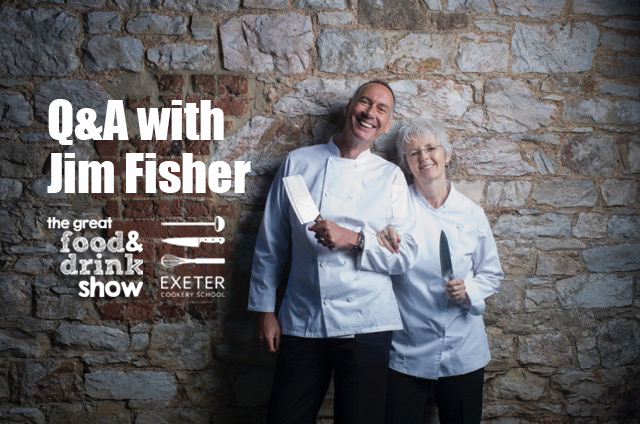 We talk all things food with Exeter Cookery School's Chef, Head Tutor and Proprietor, Jim Fisher. Jim is a former Masterchef semi-finalist and has a wealth of experience having cooked alongside Rick Stein in Padstow, Alistair Little in Notting Hill and with Tony Tobin of Ready Steady Cook fame. In 2000, Jim and Lucy opened their first cookery school, CookinFrance, set between the Loire Valley and Pyrenees mountains of South West France. CookinFrance was a huge success, students came from all around the globe to work with Jim in the converted stone barn, cooking classic and contemporary dishes from around the world in a practical hands-on style. 15 years later, Jim and Lucy decided to move to the vibrant and thriving foodie city of Exeter, where they launched Exeter Cookery School, bringing with them a mass of knowledge and recipes from some of the best chefs in France. Find out more about one half of the team behind Exeter Cookery School! 1. What's your favourite homemade dish?Syrup sponge and custard – it's my favourite all-time, go-to pudding. My Mum used to make it and it makes me feel all glowy inside! 2. What's your favourite restaurant and why?If you want an independent restaurant with a lovely family atmosphere, classic French food and the best welcome anywhere, @Angela's in Fore Street, Exeter is the one to book. 3. What's your favourite flavour combination?Strawberry and vanilla – this is such a classic and we use it in our strawberry and Crème Pâtissière Tarts that we do on our Summer Puddings course. 4. Where did you train?I'm mostly self-taught, but reaching the semi-finals of Masterchef gave me the confidence to cook for a living. A stint at both Rick Stein's seafood restaurant in Padstow and Alastair Little's restaurant in Notting Hill helped cement my love and passion for the industry. Time working at Rick's cookery school gave us the idea to set up a cookery school in France. 5. Who is your inspiration and why?It has to be Rick Stein for his food ethos and his mantra of simplicity in cooking – it really resonates with me. 6. What's the best advice you've ever received and who was it from?My Mum said to me: "Never give up, no matter how hard it gets – if you want it, it will come". I've drawn on these words throughout my life and she was right, if you want something badly enough and you're prepared to keep going, even when the tough gets going, you can and will succeed. 7. Name three ingredients you couldn't cook without.Anyone that's been on one of my courses will not be surprised by this – vanilla, butter and double cream. 8. How did you get started with cooking?Cooking really has been part of my life from pretty much as far back as I can remember. I have fond memories cooking alongside my Mum when I was nose-high to the kitchen worktop. It was in the sixties and we didn't have a fridge or any fancy gadgets – just good, honest cooking. I think this is where my love affair with simplicity in cooking stems from. 9. What was the first dish you learnt to cook?Ha ha, this one is will be a blast from the past for some, or for the younger generation you'll be hitting up Google to find out what it is! The first dish I conquered was a Crepe Suzette – as I say, it was the sixties! 10. Who influences your cooking most?My Mum – she was a prolific cook and she taught me not only how to love cooking but to truly enjoy the joy that comes from eating honest, tasty food. 11. If you weren't a chef, what would you be?A motorcycle racer. 12. What is your greatest strength in the kitchen?My ability to adapt and think outside the box when things go wrong. 13. What is your greatest weakness in the kitchen?Not being cost conscious with ingredients – I'm naturally generous when it come to food and so struggle to keep to a budget. 14. Is there a food that you'll never eat?Another reference to food from another era, but Semolina – it is disgusting! 15. Do you have a nightmare kitchen story?In the early days when we were cooking dinner parties in other people's homes, we did have a close call with an over-enthusiastic halogen hob that nearly set the whole kitchen up in flames. Thankfully, however, with a bit of quick thinking and a damp tea towel we managed to contain the situation. 16. If you could have one meal on a deserted island, what would it be?That's easy… Starter: Prawn Cocktail. Main: Slow Braised Shoulder of Lamb. Dessert: Syrup Sponge and Custard. 17. If you could cook for anyone, who would it be and what would you cook?My wife and daughter – both my biggest critics and my staunchest allies. 18. What's your favourite meal of the day? Breakfast, lunch or dinner? And why?Dinner: Nothing better after a hard day teaching than to relax over a comforting dish with good company. 19. What is your guilty food pleasure?Wotsits. 20. What is your favourite type of cooking and why?French, because I'm a sucker for a cream sauce! Keep an eye out for our next Q&A with Exeter Cookery School's Director, Lucy. If you have any questions that you'd like us to ask Lucy feel free to send us an email at info@exetercookeryschool.co.uk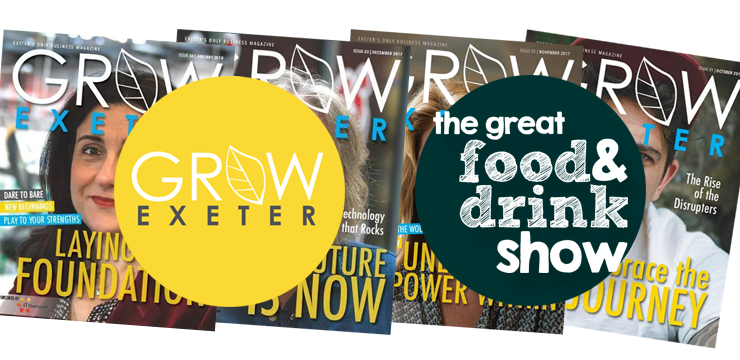 Grow Exeter join us as media partner
We are delighted to announce that Grow Exeter join The Great Food & Drink Show as Media Partners! Grow Exeter Magazine have exploded into the media market (since launching in October 2017) with energy, focus, passion and positivity. They are Exeter's only business magazine and have positioned themselves as the champions of the region's business community, putting a spotlight on the amazingly positive growth story of Exeter. Their magazine is not cold and corporate – rather, fresh and vibrant, giving interesting and informative business people a platform to share their knowledge as well as inspiring, adding value and stimulating growth within the local economy. They have highlighted the food and drink sectors as hugely valuable and vital to the future growth of the region, hence partnering with The Great Food & Drink Show. To find out more, please visit www.growexeter.co.uk or email info@growexeter.co.uk.
EXCITING NEWS! Exeter Cookery School will be joining us as a partner of The Great Food and Drink Show 2018!! We can't wait to see what deliciousness Jim and Lucy will be cooking up on stage.
Exeter Cookery School, located at the heart of the city's historic and picturesque quayside area, offers a range of fun and friendly, hands-on cookery courses. Whether you want to learn the art of making perfect pastry or spun sugar shapes or would like to discover new cooking skills – from cooking fish or meat to baking bread or making classic desserts – Exeter Cookery School has something to suit every taste and skill level.
In 2000, Brits Jim and Lucy Fisher and their daughter, Jenny, moved to the Dordogne, SW France, to set up a cookery school offering cooking lessons to locals and travellers alike.
Despite the locals' bemusement at the idea of an Englishman teaching anyone to cook, not least in France, CookinFrance became a huge success, taking students from all over the world, including France!
Sixteen years later, Jim and Lucy returned to the UK, to the place they first met and fell in love – Exeter. They began offering cooking classes and courses in Devon – the county of their roots – and raring to go with the successor to CookinFrance: Exeter Cookery School.
With the couple's extensive experience and passion for putting flavour back into food, as well as offering a warm welcome and copious cheffy tips and tricks, it is not surprising that Exeter Cookery School was an instant success. It has gained an enviable reputation for giving individuals the chance to learn to cook the way they have always dreamed, but also providing corporate and private groups the opportunity to enjoy a unique culinary experience in a sophisticated, waterside setting.
We are looking forward to seeing them on stage on both Saturday 22nd and Sunday 23rd.
We will let you know the 'Running Order' soon. If you would like to be informed of this and all other news, then sign up to our newsletter on our home page.
See you soon!
WESTPOINT EXETER 22nd & 23rd September 2018